Afternoon Alhambra Tour with Tickets and Tourist Guide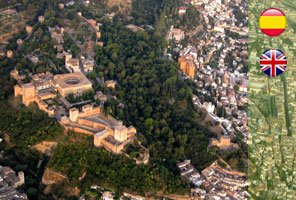 Of

55

to 59

€


Travellers reviews
(VAT Included)





- Visit the Alhambra in the Afternoon with all the comforts, do not worry about anything.
- Without lines and without waiting, Alhambra tickets are included.
- Enjoy the pick-up from your hotel and your official tourist guide.
Choose between Afternoon or Night:
Description - Afternoon Alhambra Tour with Tickets and Tourist Guide
The tour you were looking for
Description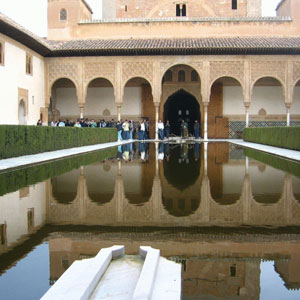 Visit the Alhambra in the afternoon with us and fall in love with the beauty and marvels of this spectacular Islamic monument.

Also do not worry about how to buy Alhambra tickets, since our visit includes admission and explanations by an official tourist guide.

On this tour around the jewel of Granada, you will visit all the main areas of the monument open to the public, and we assure you that each one will be even more impressive than the last: the Alcazaba, an ancient fortress, the Nasrid Palaces, where the famous Court of the Lions is, the Palace of Charles V and the wonderful gardens of the Generalife.
Details
Meeting point and time: we will pick you up at your hotel in the centre of Granada. The time of the afternoon visit varies depending of the day, it may be between 1:00pm and 5:00pm, so to confirm the exact time, please call us the day before your excursion between 11:00am and 1:00pm or between 5:00pm and 7:00pm to the following telephone number: (+34) 958 535 872.

Duration: 3 hours approx.

End of the tour: we will finish our visit at the same point of the meeting.
What's included?
(1) Pick up and drop off by bus from your hotel in Granada city center to the monument.

(2) Tickets for the monument, for your access to the Nasrid Palaces, the Generalife and the Alcazaba.

(3) Accompaniment by an official tourist guide of Granada who will help you to discover the history that covers every area of the monument.
Video
Additional information
- The afternoon guided tour is only available in ENGLISH and SPANISH.

- Due to the length of the walk we recommend you wear comfortable shoes, and bring plenty of sun protection.

- The order of the excursion may be modified by instructions of the Patronato.

- Occasionally, for operational reasons, the excursion can be done simultaneously in two languages.

- You must keep your entrance ticket to the monument with you during the entire tour.

- If you want to modify or cancel your reservation, please contact us via the customer form.


Booking
After completing the purchase process your booking will be automatically confirmed. You can pay with your credit card (VISA and MasterCard) or bank transfer. You will receive a confirmation of booking email and the voucher for your visit once you have completed the payment.

This voucher must be printed and showed to our tourist guide before the beginning of the excursion to receive your tickets.